Happy New Year 2015!
by Sebastien Mirolo on Sun, 4 Jan 2015
Happy New Year to You! Happy New Year to all those who entrust DjaoDjin with the technical challenges of running their boutique services online. Happy New Year to all those who support DjaoDjin with their time and money.

Lessons learned in 2014
Open Source, Marketing, Recruiting
One of DjaoDjin premise is that a boutique Software-as-a-Service has a disproportionate investment in deploying code for the the *-as-a-Service part (Registration, Password Recovery, Pricing Plans, Coupons, Refunds, Churn Computation, etc.). Working with clients that have switch to fully host their business on djaodjin.com, we evaluated their core service product to represent between 20% to 30% lines of source code.
Up to 80% of a Software-as-a-Service product deals with no-core-value-added features, i.e. user profiles and subscription logic!
In the 7 months since DjaoDjin was officially incorporated, we have released most of DjaoDjin software stack as 10 open source projects as promised. Github provides traffic metrics for the last 14 days. Pypi has total download metrics. Most of the activity shown might be coming from crawler bots - difficult to decide yet.
What is sure:
Open Source is business insurance. Customers told us.
Open Source is a fantastic recruiting tool. Candidates told us.
Inbound marketing is a long game.
Features, Plans, Pricing
DjaoDjin mallspace hosting plan comes with DjaoDjin branded pages, single sign-on, and consolidate billing for the ultimate end-users. For DjaoDjin direct clients hosting their boutique service on djaodjin.com, the co-branding proves valuable in SEO and acquisition (frictionless subscription). DjaoDjin streetside hosting plan is a full white-label solution.
Customers using djaodjin.com prefixed URLs (mallspace) have reported increase in traffic as well as ranking on Google without special work on their part.
Most new clients are attracted by the aggressive mallspace pricing then prefer to subscribe to a streetside plan. The caveat here is that those same clients are happy to use djaodjin.com prefixed URLs. For them, it is a blessing to avoid dealing with DNS redirects, SSL certificates, etc. They care first and foremost about full customization of the look-and-feel of the pages.
Domain Names are becoming as irrelevant as IP addresses to end users.
Many providers, especially in the payment industry, charge a percentage of their client revenue stream. It seems like a great proposition for bootstrapped entrepreneurs: "You pay nothing until your first customer, your cost can never exceed your revenue."
We pondered a business model with an added percentage on top of the base 2.9% Stripe fee. Surprisingly most people we talked to came to DjaoDjin because they were fleeing this "tax" model. DjaoDjin customers are ready to pay a fixed monthly charge for hosting and security, sometimes up-to a year in advance. That might just be we are talking to real businesses with a already established clientele - nothing to complain about there.
In a digital economy, the cost of the N+1 transaction is trivial. Serious businesses resent a percentage fee business model as an undue "tax".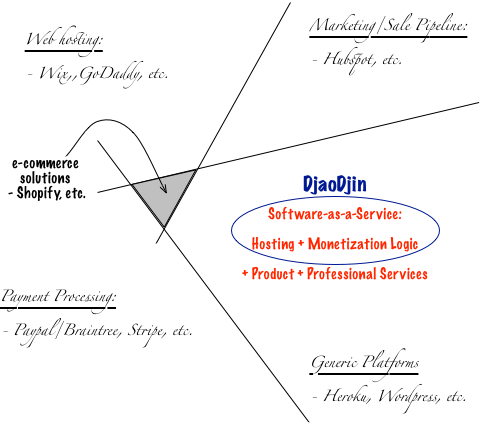 Into 2015
We are excited to learn and share a lot more in 2015. If you are a independent software developer building application on contracts, a part-time CTO for a service business, we want to hear from you and the challenges you face. Please contact us.
Happy New Year! May your path to financial freedom start Today.
Update: If you are looking for the short visual version, slides of the presentation given to SF Python Meetup are available on slideshare.