RapidSaas Meetup Notes
by Sebastien Mirolo on Fri, 17 May 2013

After all, one of the most compelling arguments for building a SaaS (Software-as-a-Service) business is that you can do it on a shoestring and be profitable within a few months - No 'Angel', no VC, fully bootstrapped.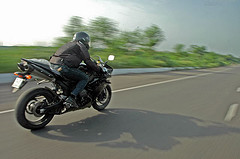 A famous advocate of this model is David Heinemeier Hansson of 37signals; another strong advocate of focusing on revenue early on is Hasan Mirjan of Spheremail, who is both a friend and client.
It seems that this is the Magic Bullet: focus on revenue from Day 1. If you don't seek outside investment, you likely have a few thousand dollars saved up - and money goes very fast.
Sam Ovens of The Foundation bootstrapped SnapInspect from nothing to significant revenue in just four months. He stopped by a RapidSaaS meetup for a quick chat. Here are my notes from the conversation:
From No Idea to Revenue
As sure as the three "P"s of Integrated Circuit design are Power, Power, Power, the three "S"s of rapid SaaS are Sales, Sales, Sales.
The premise of Dane Maxwell's (founder of The Foundation) approach is that many markets are still organized around ad-hoc solutions, and in these markets software can bring 10x productivity increases. So the process goes something like this:
Pick a market
Find the major pain for someone in that market
Sell a SaaS-based solution
Build it
A lot of serendipity goes into picking a market, yet there are indicators that can help you size up the opportunity. A market with a lot of hiring going on is growing (you can look at job postings). A market that advertises a lot is competitive; there is also extra money to spare there. Finally, the more a market is profit-oriented, the easier the sale.
Once you have the market, you need to identify the most painful day-to-day activities. That requires you to write down a thorough list of questions, and talk to as many people as possible. (Most would-be entrepreneurs never get past these steps.) There are 3 basic steps:
Write out a script to guide your phone calls. At this point, you want to identify the key challenges faced by your target market, so the script should focus on this.
Gather a list of one hundred people in that market. With all the services online today, this is relatively easy.
Get on the phone.
The numbers are pretty consistent: An introduction email to 100 people will lead to roughly 30 completed follow-up phone calls, resulting in about 10 leads. Cold calling is hard. You will have to go outside your comfort zone. You are thus better off knowing sooner than later if you can pass the bar before you invest much time and money in your project. And by talking early with people in the market, you get validation before investing significant resources. You also have time to zero in on the likeliest buyers, and learn their titles, day-to-day worries, emotional biases etc.
Sales, Sales, Sales
One minute. That's about how long an average person can hold their breath. A few days? That's how long a business can survive without cash. It's a harsh reality: Sales and its resultant influx of cash is as critical to a business' survival as oxygen is to yours.
The Ultimate Sales Machine by Chet Holmes is one of the most thorough books on the subject of sales. If you are a trained engineer turned entrepreneur like myself, start with this quote:
"If you truly believe that your prospect should benefit from your product or service, it's your moral obligation to help them make a decision and get on with their lives."
Then think twice about the product you are building. If you're still on board, start selling or go home.
Nothing points out the tension between sales and engineering better than the differences in the recruiting process for the two disciplines. Yet a successful career in either field does require bull-headed determination. Engineers respect a "it's not done until it's done" attitude, something that is part and parcel of sales. They also respect careful attention to detail. In The Ultimate Sales Machine Chet Holmes shows us that the best performers in sales are highly prepared and determined. They devise a process, write scripts, think ahead about potential objections and prepare for them. As in any science, skills are acquired through repetition.
This is the common ground on which a business leader needs to build a synergy between sales and engineering. Why? It's simple: aligning your sales and development cycles is critical to your company cash flow, and cash is survival. Cash is true profit.
Engineering is very much about looking inwards to solutions. In that sense, engineers are perfect buyers. Software developers are always on the outlook for new technology, new programming languages, something to give them an edge to build better products. To become a great salesman, think through the eyes of your prospect. What would you do if you were tasked to solve her problem? Would the product you are building do the job?
Benefits to the client always drive sales, and are the basis of value-based pricing. Nothing sums it up better than this recent article: What A Dead Squirrel Taught Me About Value pricing.
photo credit: ~FreeBirD®~ via photopin cc