The insanely low cost of experimentation in software enables many teams to innovate and build sustainable boutique services on the web. DjaoDjin recognizes itself amongst the people supporting technologically a new breed of independent entrepreneurs with emphasis on:
OpenSource productivity in all aspect of programming activities
OpenEducation around subscription platforms
OpenSpace building together concrete useful solutions

What does DjaoDjin mean?

"Djao" is a salutation word in Northern Thai that translates to welcome. "Djin" refers to a spirit inhabiting trees, lakes and mountains in Africa. DjaoDjin literally spells the "Welcome Spirit".
Learn About Our Values »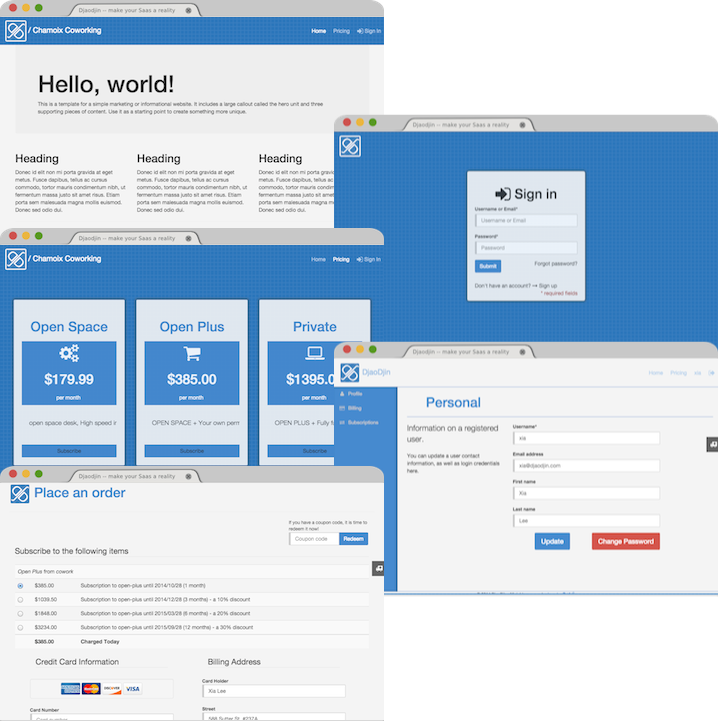 OpenSource
Open source because it enables to build businesses faster and cheaper. Of course, putting it all together and keeping things running is no small feat. That is what the DjaoDjin Team does day-in day-out.
When you are looking for professional services on top of the DjaoDjin platform, please let us know »
OpenSpace
Innovative entrepreneurs always benefit from a social space to hang out together. Whether you happen to stop by Agadir (Morocco), Chang-Mai (Thailand), Lille (France) or San Francisco (USA), come sit down with the DjaoDjin Team and have fun building your membership business with us.
OpenEducation
It only takes a computer, an Internet connection and an itch of curiosity to become a talented coder. The DjaoDjin Team is dedicated to distributed self-starter teams. You will get a chance to impress us and join our team wherever you happen to be born or live Today.
These are our Operational Guidelines. Whenever we can, we use Open Source technologies. The work you will do will be published publicly. Follow the evolving list of technologies we rely on at VersionEye ».
Eager to join a meaningful Open Source company? Want to apply? Easy. Just contact us on linkedin, twitter, or directly and let's start the conversation. The choice is yours.